Casa Mariei is a vacation rental in Skala Kallirakhis with access to a private garden, balcony, fully-equipped kitchen and private parking.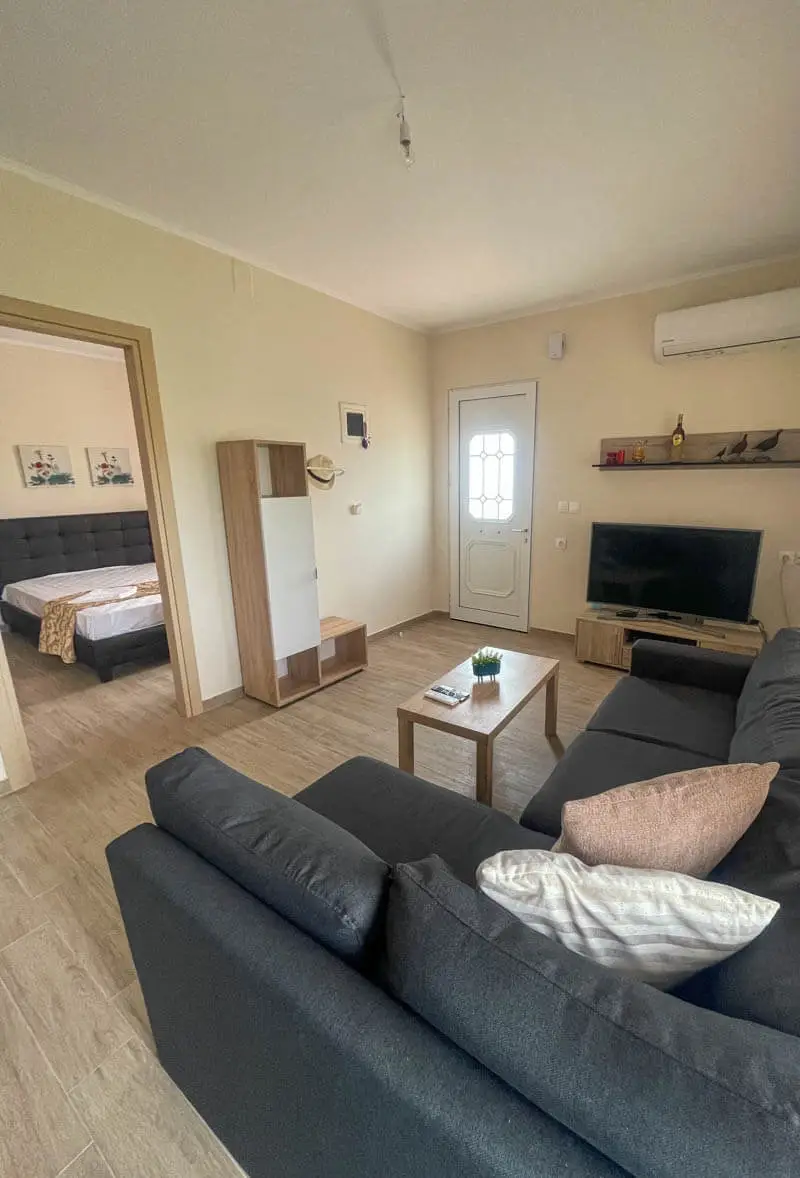 A family home built from us with care and love
Once the residence of our beloved grandparents, Casa Mariei was recently renovated to host up to 4 adults and 2 children, with its 60-square meters and lovely private terrace.
The air-conditioned holiday home consists of 2 bedrooms, a living room, a fully equipped kitchen with a fridge and a kettle, and 1 bathroom with a shower and a hairdryer.
Casa Mariei is less than 500 meters from the square of the Skala Kallirachi village, an ideal location right in the middle of two of the most famous attractions in Thassos: Limenas in the north and Limenaria in the South.
Our Garden
We love our terrace and garden, so we take great care of them. You will find a dining table in the middle of the deck, shielded by an umbrella from the sun, next to a swing sofa and a kids' playing area!
There is nothing like enjoying your early breakfast or late-night wine on our private patio, overlooking the stars, or enjoying the bright Greek sun.
Get ready to cook your breakfast, launch, or dinner in our kitchen. You will find everything you need here.
Frequently Asked Questions
What are the check-in and check-out times at Casa Mariei?
Check-in at Casa Mariei is from 15:00, and check-out is until 11:00.
How many guests can sleep at Casa Mariei?
Casa Mariei can host up to 6 guests, 4 of which will sleep in two bedrooms, and two children at the sofa bed.
How far is Casa Mariei from the center of Skala Kallirachis?
Casa Mariei is 400 m from the centre of Skala Kalliracis.
Is Casa Mariei popular with families?
Yes, Casa Mariei is popular with guests booking family stays.
Does Casa Mariei have a balcony?
Yes, Casa Mariei features a private balcony overlooking the Aegean.
How many bedrooms does Casa Mariei have?
Casa Mariei has two bedrooms that can each host 2 guests.
How many bathrooms does Casa Mariei has?
Casa Mariei has one bathroom
How much does it cost to stay at Casa Mariei?
The prices at Casa Mariei may vary depending on your stay (e.g. dates you select, duration etc.). Text us to get the best price available!